Bev I Am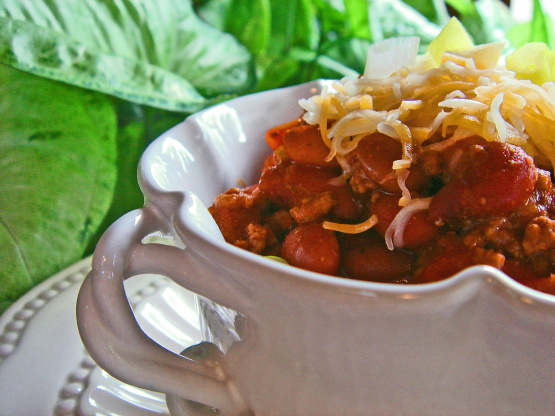 I love this chili recipe! It is so easy and tastes so good! I like to serve it with shredded cheddar and some chopped onions sprinkled on top. Enjoy!

This is the perfect hearty chili. It is mild but can be seasoned to taste. This chili has the perfect blend of beans, meat and sauce and one does not overpower the other. I have eaten it with grated cheddar cheese sprinkled on top and chopped onions and tobasco. A perfect meal in itself.
Cook ground beef and onion in dutch oven until beef is browned, stirring to crumble.
Add remaining ingredients, except beans.
Cover and simmer 20 minutes.
Stir in beans and continue to cook, covered, 45 minutes.
Remove cover and cook 15 minutes more.
Makes 2 quarts.