My Favorite Almond Joy Cookies - Lighter
Katzen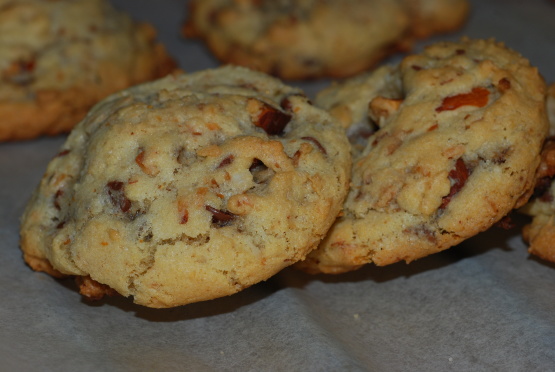 Adapted and lightened from my favorite all-time cookie on Zaar, Almond Joy Cookies by Chef--V.... because I can't stop eating these yummy cookies!

My sister made these cookies and brought them for Christmas dessert, I begged for the recipe. I also kept what she brought and have been munching on them all afternoon..(shame on me) Delish..I will be making these as soon as I get the ingredients.
Preheat oven to 375 and prepare cookie sheets with parchment paper.
Toast almond and coconut (not together) and chop almonds once cooled. To toast almonds, I bake at 350 for 10 minutes until fragrant. To toast coconut, I use a small skillet on medium heat and shake until coconut is golden brown (removed quickly as unsweetened coconut goes from done to burnt very fast).
Combine flour, baking soda, and salt. Set aside.
Using stand mixer, cream butter and sugars until light and fluffy.
Continuing to run mixer on medium, add egg, egg whites and vanilla, one at a time and mix until combined.
With your mixer turned to low, add dry ingredients until flour is incorporated.
Stir in mini-chocolate chips, toasted coconut and toasted chopped almonds.
Drop with a cookie scoop (1.5T) onto cookie sheet.
Bake 10-12 minutes until golden brown on edges.
Cool for 1 minute before removing to wire rack to cool completely.