My Fave Chocolate Chip Cookies
KT_Z4571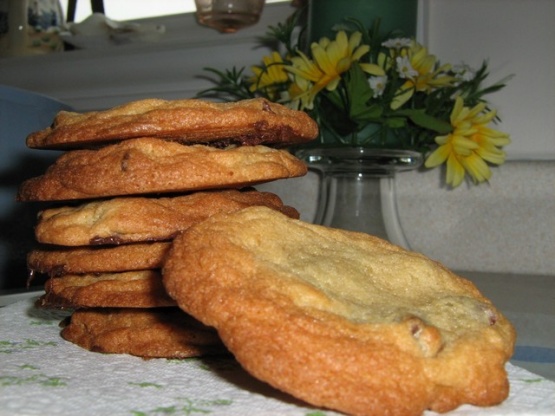 Mum has been making this recipe since I was just little. It's the BEST! Sometimes I substitute 1 cup of whole wheat flour for 1 of white. It makes the cookies a little chewier. I also like a lot of vanilla, so I generally use 2 cap-fulls when I make these.

Super easy to make - a great afternoon project for kids, or a quick treat for anyone else! We took a 15 minute break from Scrabble and were able to make these and munch on them within that time. One thing we did do is halve the amount of white sugar and use milk chocolate chunks (larger than chips) and the recipe adapted very well - thanks for posting!
Preheat oven to 375°F.
Combine margarine and both sugars. Mix until light and fluffy.
Add eggs and vanilla; mix.
Add flour, baking soda, and salt; combine.
Stir in chocolate chips.
Drop by teaspoonfuls onto a greased baking sheet.
Bake for 8-10 minutes. (We use convection bake, so 8 minutes in our oven is usually just right).
Once out of oven, let cool on baking sheet for a few minutes before transferring to cooling racks.
Just try and wait to taste one!