My Family's Favorite Sloppy Joes (Pizza Joes)
Swirling F.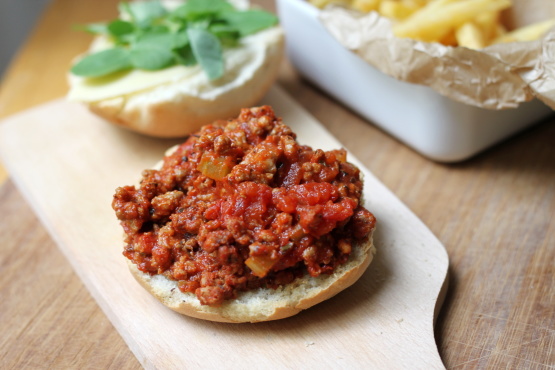 I've tried many recipes, this is the best. I once 'dec-tupled' (10x) this recipe to sell sandwiches at a craft fair at my church. People were waiting in line to buy leftovers. Freezes well, goes up to the lake or camping well and is a hit on Halloween...it's no-fail. Easy to double, triple, etc. I've been making Joes this way for over 20 years. ***03-08-09, I just reinvented this recipe tonight when I went to make it for dinner and found I didn't have an 8-oz. can of tomato sauce (shame on me). The family was upset with me when I subbed an 8-oz. can of pizza sauce and told them to suck it up and call them 'Pizza Joes' and then served them up with shredded mozzarella cheese on the toasted buns, top and bottom. They loved it. I left out the BBQ sauce in this preparation and just used a 1/2 cup ketchup. Pizza Joes are good to go!

We love this recipe. I will never buy the canned stuff again. I like to use a spicy bbq sauce and give it some zing. I have made large batches the night before and then put it into the crockpot on low to have for gatherings. It stays really moist and delicious.
In a large skillet, brown ground beef, celery and onion.
Drain the fat, who needs it?.
Stir in remaining ingredients, simmer covered, 15-20 minutes, stirring occasionally.
If Joes appear too'loose', leave cover off and let moisture evaporate.
Cook until it's the consistency you like for serving on toasted buns, with french fries and cole slaw.