My Family's Favorite Fast Chicken Soup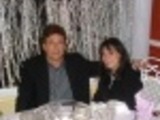 This is a simple, quick recipe that I have relied on for almost 30 years. The ingredients are generally on hand so it is easy to throw together when someone in the house is not feeling up to par. I have doubled and tripled this recipe to freeze some for later.
Directions
In saucepan, combine chicken broth, chicken breast, carrots, celery, onion and water.
Simmer, covered, for 30 minutes.
Remove chicken; trim meat from bones; add to soup.
Stir in noodles.
Simmer, covered, 15 minutes.
Garnish with chopped parsley and grated Parmesan to your liking.