IA gal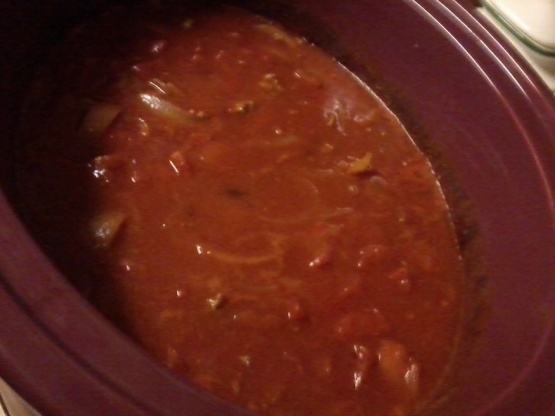 More like soup than a thick chili. Prepare in the morning and let cook all day in the slow cooker and serve for supper over corn bread. During harvest time, I prepared in the evening, turning to warm setting over night for husband to take to work the next day. Once at work, he turned on low until lunch time. Guys at work sent tons of compliments home with him.

We really liked this chili. I doubled the meat, onions, and beans. I also took your suggestion of adding in green bell peppers and threw in some frozen corn that needed used up. We don't like our chili "soupy" as you stated it is in the description, so I didn't double the tomatoes or tomato juice. This is a very versatile chili, that I am sure we will enjoy many times in the fall and winter. Thank you for a winner IA gal. Made for Zaar Chef Alphabet Soup ~Jan-June 2013.
Slice onion into small pieces (not diced).
Brown ground beef, sliced onions, black pepper. Drain any excess grease.
Turn slow cooker on low and add: tomato juice, diced tomatoes, kidney beans, chili powder. (I start with about 3Tbs. of chili powder and sometimes add additional dashes to taste after it's cooked a while.) Add ground beef mixture after meat is cooked & drained.
Cook on low in slow cooker stirring occasionally 4 to 5 hours for best flavor throughout. Serve with crackers or over corn bread. (It fills up a 4-qt slow cooker, so I prepare in my 5-qt. slow cooker).
* Variations I've tried. Try any one or a mix of them. 1. Add 1 medium green pepper, sliced. 2. Do you like lots of beans in your chili? Add a second can of kidney beans. Don't like beans? Leave them out. 3. Change up the flavor by using the various flavored diced tomatoes. 4. Want a little more spice, substitute the black pepper for cayenne pepper when browning the ground beef.