lazyme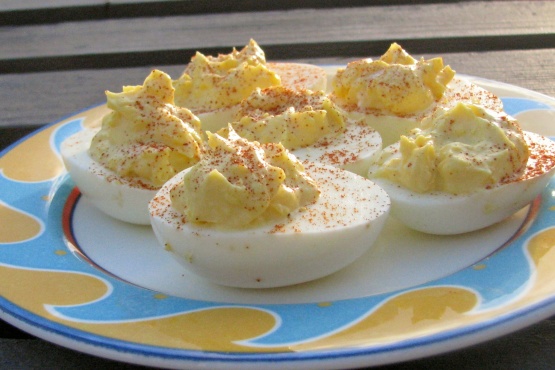 Tired of the standard deviled eggs, I combined quite a few recipes to create my own recipe. If you like a little sweetness in your deviled eggs, then this one is for you. Time involved includes 1 hour chill time.
Hard Boiling the Eggs:.
Place eggs in saucepan and cover with water 1 inch above the top of the eggs.
Bring to a boil.
Turn off heat and cover for 20 minutes.
Remove shells, halve the eggs, and remove yolks to a bowl.
Deviled Eggs Filling:.
Mash yolks with a fork.
Add remaining ingredients.
Mix either by hand or hand mixer.
Spoon or pipe filling into egg whites.
Garnish with sprinkled paprika.
Chill 1 hour before serving.