My Daily Multi Grain Power Granola (Thorsten's Müsli)
Thorsten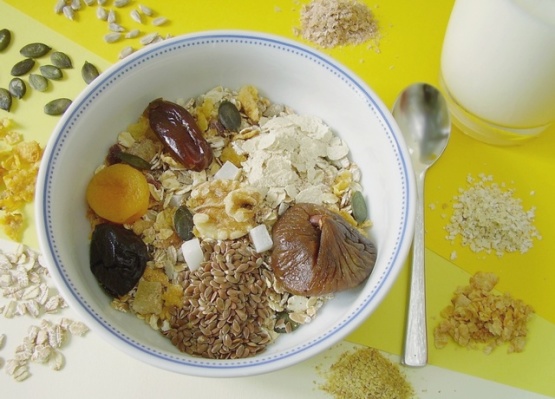 As a marathon enthusiasts I was always looking for the 'perfect' healthy and tasty granola. Thorsten's Müsli is the result. It is different, all the good stuff is in and it is unsweetened. I like cereals and in this Müsli 9 different can be found as flakes, germ and bran. This Müsli has its own special (acquired?) taste - I love to have it every day.

This is a really good musli, although one must understand it is very different from a commercial musli. I used almost all grains listed and subed a few different for the ones I didn't have. I love the fact that there is no added sweetner, just grains, nuts/seeds and fruit. I actually have added more than one daily addition. I usually add the dried fruit plus flax. If I didn't add the daily addition of dried fruit I would probably add a tiny bit of honey. I also found that I personally like only 1/2 cup of milk per 4 tbsp stock musli. Thanks Thorsten for an extremely healthy and yummy recipe!! I plan to make it part of my rotation of breakfasts.
Stock Muesli

4

ounces old fashioned oats

4

ounces old fashioned rolled barley

4

ounces old fashioned rolled wheat

4

ounces old fashioned rolled rye meal

2

ounces rice, flakes

2

ounces spelt, flakes

2

ounces rolled soybeans

6

ounces mixed seeds (pumpkin, sunflower, soja, pignolia or others)

2

ounces millet, flakes

2

ounces wheat germ

2

ounces wheat bran

2

ounces oat bran

2

ounces raisins

2

ounces cranberries
4 1⁄2 ounces dried fruit (e.g. pineapple, melon, mango, coconut and others)

Daily addition

1

walnuts or 1 other nuts or 1 teaspoon sesame seeds

1

teaspoon spelt or 1 teaspoon rye meal or 1 teaspoon millet, germ

4 -5

pieces dried fruits (plums, apricot, fig, date, apple or others)

1

teaspoon flax seed, grind coarsely

Milk

1

cup low-fat milk

Daily topping

1

teaspoon corn flakes
In a large airtight box mix the first 8 ingredients from oats to mixed seeds.
Cut dried fruit into small pieces.
In a second bowl add millet flakes, oat bran, wheat germ and bran. Add raisins, cranberries and cut dried fruits and mix thoroughly. This will coat the fruits with a small layer and prevent them from sticking together.
Add this mixture to the first and mix well. This is the stock Müsli. Keep it in an airtight box.
To 3-4 tablespoons of the stock müsli add the daily addition. You can use them all or choose the one you like most. The dried fruit add the sweetness to this muesli. I vary this on a daily basis. Add milk, mix and let stand for 30 minutes.
Add cornflakes and serve immediately.
NOTE: Preparation of stock müsli is not included in cooking /preparation time.
NOTE on Daily Addition: I use coarsely ground flax seed separately, because they have the tendency to get rancid. You can also use whole flax seed. Then add them directly to the stock müsli (2 ounces). Spelt, rye and millet germ are difficult to get. You can omit them, but they have a very special taste. Therefore I add them on a daily basis. Spelt is nutty, millet is crisp and rye has a flavor of bread. As dried fruit use whatever you like, take this as a suggestion. You could combine the daily additions.
NOTE on Thorsten's Müsli: This Müsli can be varied. You can reduce the number of different grains or omit one or the other ingredient. But then it would not be Thorsten's Müsli. Then it is your own Müsli. You'll have to find your way and taste. I created this Müsli to combine as much as possible different resources for carbohydrates, dietary fibres, minerals, vitamins or proteins. I use no additional sweetening, except that of the dried fruits, because I like the natural sweetness and taste of the different cereals, seeds and fruits. If you like some additional sweetening, use a mild honey (e.g. clover). I eat this Müsli every day 'very slowly' with a teaspoon and a glass of orange juice or water. This note is rather long, sorry, I just wanted to share some of my ideas and this recipe (or my ideas on a healthy and tasty granola respectively).