My Crock Pot Spaghetti Sauce
Redsie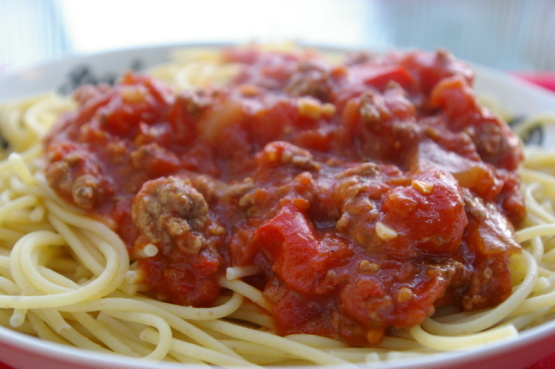 This is a spaghetti sauce recipe that I've developed over time. You may alter the ground meat as you please; sometimes I use all ground beef when I find a good sale but half beef/half pork is pretty tasty. My crock pot is my best friend at times when I'm having busy days at work but still want a decent meal on the table for my family. I serve spaghetti with crusty bread and a romaine salad. Cook time is the crock pot cooking time. This recipe is for a 4 quart crock pot, halve it if your pot is smaller.

Hey Jude, this recipe is FANTASTIC,thank you so much, it is greatly appreciated. I did add fresh sliced mushrooms about half way through the cook time,otherwise followed the directions. Everything blends for a perfect flavored sauce. I plan to keep this on hand in the freezer.
Brown meats and onion in a skillet and drain well.
Transfer to your crock pot.
Add remaining ingredients and mix well.
Cover and cook on low for 8-10 hours.
Serve over hot spaghetti noodles.