Asha1126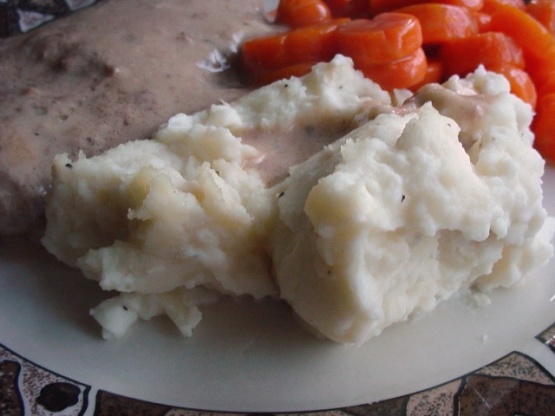 I love good cream potatoes. I learned how to make this from my Great Aunt Minnie. She always had a bowl on the table at meals. **NOTE** When I don't have fat back meat, I use a chicken bouillon cube in the water while boiling taters. You can use regular potatoes to replace red potatoes.

Very tasty! Thanks for posting!
Wash and peel potatoes.
Before adding potatoes to the pot, fry a 2-inch slice of fat back in the pot til browned.
Leave grease in pot and remove strip and discard (or put 1 cube chicken bouillon in the water while cooking).
Add potatoes and water to grease in the pot and bring to a boil.
Cook 20 minutes or until tender.
Drain potatoes.
Put potatoes in a mixer bowl and add milk, whipping cream, salt, pepper and butter and cream to texture you prefer (use more or less milk if needed).