My Craze-E Kicked-Up Quiche!
Rita1652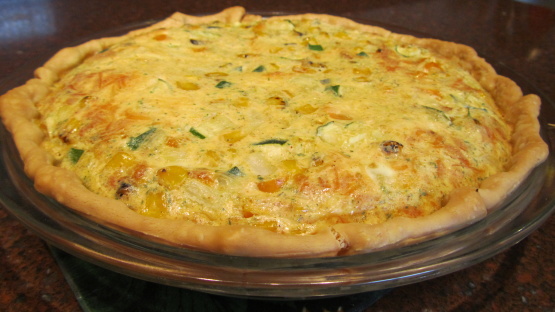 This savory gift of love from my kitchen to yours is perfect as a meal or side dish. Featuring star ingredients from the CRAZE-E Contest cupboard such as zucchini, nutmeg, cumin, chili powder and whole kernel corn giving this quiche great flavor that is sure to please.

I cut the recipe in half, used 2 whole eggs, 1 cup fat free half and half. Trader Joes has Roasted corn kernels so I had to use them. Sauteed in garlic olive oil instead of butter. Skipped the salt and didn`t miss it! This is a sweet custard quiche. I would have liked to see maybe 1-2 more eggs. I did double the cheese. I must say I made half it was enough for 8 servings. Thanks for the good eats.
Dice up zucchini, yellow squash and onion.
In a skillet on medium heat, add 1-2 tablespoons butter and saute onion, stirring frequently until tender about 3-5 minutes.
Add the corn, zucchini, yellow squash pieces to the skillet with the onion and saute for an additional 5 minutes, stirring frequently.
Preheat oven to 350°F.
In a bowl, whisk eggs, cream, salt, pepper, cumin, chili powder and nutmeg together.
Add cheese, zucchini, onion, squash and mix together with bowl ingredients.
Pour complete mixture into crust and then cover crust edge loosely with aluminum foil.
Bake for 40-50 minutes or until it is no longer jiggly in the center.
Cool on rack for 10-15 minutes before serving.
Garnish with chives and enjoy.