My Cousin's Butter Pecan Pound Cake
My cousins made this cake for a family picnic...one taste and everyone was scrambling for pens and paper to take down the recipe...Maximum Yum!
Directions
Preheat oven to 350°.
Mix all ingredients except for the morsels and nuts until smooth.
Stir in the morsels and pecans.
Bake in a greased and floured bundt pan for 50-60 minutes or until cake tests done.
Most Helpful
My whole family loved this cake! My grocery store didn't have butter pecan cake mix, so I used a butter flavored golden cake mix instead and it worked great! Naturally it would have had a more intense pecan flavor if I'd have used pecan cake mix, but didn't really miss it. The butterscoth flavor is what we really loved! Thank you for this easy yummy cake!
This cake had a great flavor, but totally fell apart when I took it out of the pan. I will try it again though because it tasted great! Thanks for posting! EDITED Jan 19, 2008 - Tried again but this time greased the pan with Kittencal's #78579 and the cake came out of the pan WITHOUT falling apart!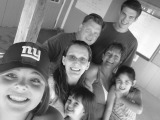 Give your cousin a pat on the back because this cake is great! I did sub applesauce for half the oil to reduce the fat a little but besides that I made as directed. Thanks Harley for this yummy treat!