My Citrus Cheesecake Dessert
kate09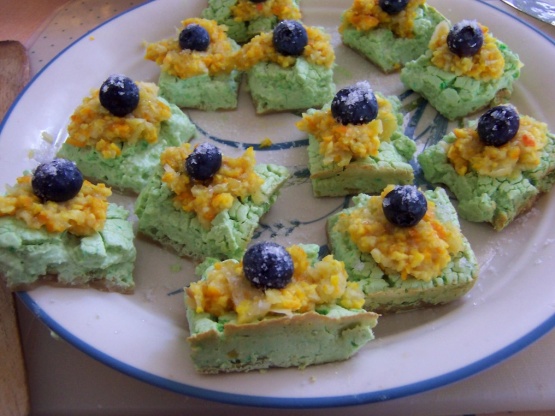 It is very nice for presentation. Tastes like a cross between cheesecake and key lime pie. I kind of whipped it up because I had to entertain guests and it makes for a nice presentation.

Thsi is a suggestion regarding the baking pan, not a review. I usualy line the pan with foil and have it overhang the edges. When cooled simply lift the "cake" out by the foil and cut as desired. No worries about edges sticking to pan, and it is easier to cut things once removed from the pan. HTH --- BTW, I've saved your recipe,sounds great; esp low in carbs! Lee
Preheat conventional oven to 325°F.
Crush the crackers, add water and maple syrup.
Spray with cooking spray and line a 9x11 (or similar) pan with the mixture and place in oven for 10 minutes.
Meanwhile, soften cream cheese by placing in the microwave for 1 minute and combine it with flour and lime Jello powder.
Add egg whites and mix with electrical mixer.
Add sour cream, vanilla, and sugar substitute, mix until even.
Take the crust out of the oven and turn up the heat to 450°F.
Evenly spread the filling in the pan.
Bake for 10 minutes then reduce heat to 250°F and bake for 30-40 minutes.
Take out and cool for a few minutes. Then go over the edges with knife to separate cake from pan.
Cut into 24 square pieces. Let cool before removing because it will fall apart otherwise. Topping is optional but it makes it look pretty.
Cut up the lemon in a food processor to where its pretty much a light yellow mush.
Peel orange and cut up the PEELS. Combine with lemon.
Add the maple syrup and sugar substitute to the mixture.
Smooth about 1 teaspoon of mixture on each cake.
Add 1 blueberry on top of each cake and sprinkle with sugar (optional).
Chill for at least 2 hours before serving.