Stacky5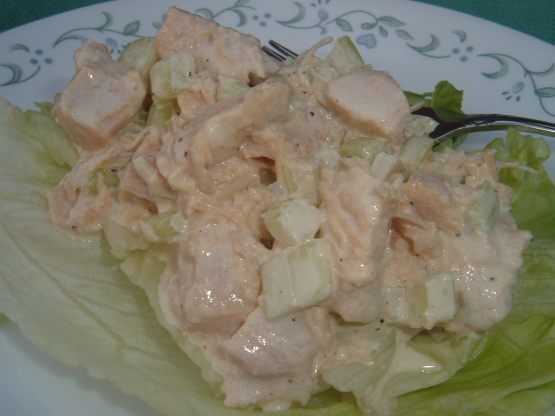 This chicken salad is one I made up to suit my own taste. It is very simple and good. I like this with a slice of tomato and lettuce on toasted bread. this chicken salad is one I m

Loved it! Marinating the boiled chicken is a great tip for adding flavor to the chicken salad. I used Best Foods and threw in some chopped walnuts. Made delicious sandwiches. Thanks Sharon!
Simmer chicken, covered in enough water to cover, 1-2 hours or until done.
As soon as chicken is cool enough to handle, remove the skin and bones, keeping meat in large pieces.
Combine oil, vinegar, mustard, salt, and pepper.
Pour this over the chicken pieces; marinate this covered in the refrigerator until well chilled.
When chilled, cube the chicken into small pieces.
Combine the chicken with remaining ingredients.
Chill until served.