3 Reviews
I made this for a BBQ today and everyone loved it. So easy. I used Greek Vinaigrette as my dressing. Added extra fresh herbs from the garden and supped in cucumber instead of tomatos. Thanks.

Made this for the start of lent today. It was very good. The only thing I did different was put cucumbers instead of red pepper.
This certainly makes a lot of a tasty salad! A nice change of pace from the typical pasta salad with lots of flavor! Thanks for sharing.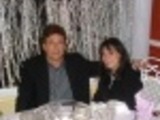 My Big Fat Greek Pasta Salad