My Big Fat Greco Inspired Burger
Prep 20 mins
Cook 14 mins

The burger by Susan Mello on Throwdown with Bobby Flay :) It's wonderful.
Directions
Tzatziki with feta:
Seed and chop the cucumber. In a medium bowl, stir together the cucumber, yogurt, garlic, dill and feta. Refrigerate and chill for 1 hour.
Grilled Eggplant:
In a small bowl, combine vinegar, oregano, salt and pepper. Whisk in oil until thick and well blended. Cut the eggplant into 1/2-inch rounds. Arrange in a 13x9x2-inch baking dish; coat well with dressing. Grill eggplant until tender, about 3 minutes each side, keep warm.
Lamb burger:
In a large bowl blend together lamb, mint, cumin, salt and pepper, to taste. Form 6 patties.
Before grilling burgers, brush the grill rack with oil. Place the patties on the rack turning once, 4 minutes each side.
Cut pitas horizontally and lightly toast over indirect heat.
Assemble burgers as follows: pita bottom, lettuce, burger topped generously with tzatziki, a slice of grilled eggplant, and the top of the pita.
Reviews
Most Helpful
This was a delightful change of pace from the ordinary burger. I especially loved the grilled eggplant and the tzatziki with feta topping. Yum! ~Made for ZWT6 Zee Zany Zesty Cookz~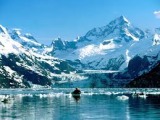 Delicious! I shaped my hamburger mixture differently - into a a basic kebap shape (long cigar shape) and made souvlaki as per the usual manner. Laid the pita out flat, put in a couple of pieces of the grilled eggplant, a lamb kebap (or burger ;-) ) and dolloped with the feta/tzatziki mixture before folding closed. I think this makes for 'cleaner' eating, not allowing stuff to drip out, if you fold and wrap the pita properly as per souvlaki. We all really enjoyed the addition of feta to the tzatziki and thought this was a tasty lunch. Thanks.

We thoroughly enjoyed these not in pita bread - but that sounds like a delicious option I'll certainly go with another time - but with two of I'mPat's yummy recipes: her Roasted Potatoes With Sage and Lemon 255923 and her Simple Cabbage and Mushroom Side 207084. My dinner guests loved all three elements us in this recipe: the burgers, the tzakiki and the eggplant. And four of us knocked these off without difficulty: enough said! I particularly loved the cumin in the burgers and the selection of herbs in the tzatziki and grilled eggplant. Thank you for another wonderful recipe, MarraMamba, that I look forward to making again! Made for 1-2-3 Hit Wonders.