My Big Brother's Bratwurst Wraps
teresas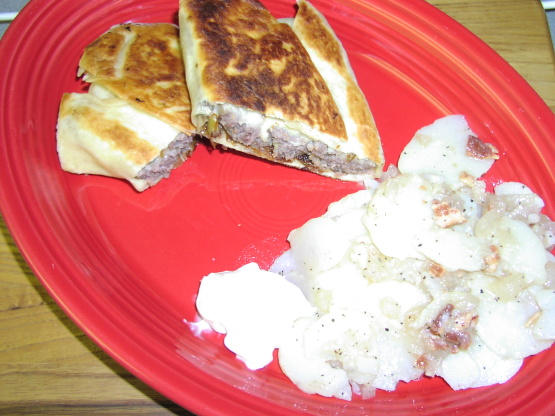 My big brother Charly brought these to a football game for all of us to enjoy, and they were fantastic! Great to serve during the game!

Really awesome & creative way to use two random ingredients in my fridge. I used the left over beer in some braising liquid for another dish because I hate wasting stuff. I used an Amber ale and it was delicious! I also threw in some cream horseradish with the mustard, as well as some mayo because I'm gross. Thanks for the recipe!
Place bratwurst and beer in medium saucepan and bring to a boil.
Reduce heat to low; cover and simmer 10 minutes.
Remove from heat and let bratwurst cool in beer.
Place bratwurst in center of grill and grill 5- 6 minutes or until browned.
Split each in half lengthwise.
Place sauerkraut down the center of each tortilla.
Place 2 bratwurst halves on top of filling.
Spread 1 tbsp mustard on bratwurst and top with a slice of cheese.
Fold two sides of tortilla over cheese and remaining bottom and top halves of tortilla to close.
Place tortilla wraps flap side down on grill.
Grill 3- 4 minutes or until browned and heated through, turning once halfway through grilling time.