Nimz1466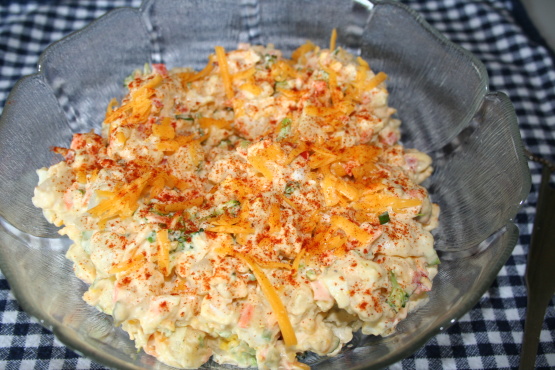 I have always wanted to make a very creamy potato salad,that's full of flavour, and this time, after much trial and error, I think I have found the one!

I LOVED THIS. I know it's November, not really the time to be making potato salad, but I'm quite pregnant and I was craving it. It took a while, and I ran out of regular potatoes so I had to sub in yams, but it was worth. I can't wait for summer, when I can make batches of this for picnics!
8

cups potatoes, peeled and cut into 1/2 inch cubes

3

eggs, hard boiled and chopped

1

cup carrot, peeled and chopped

1

cup broccoli floret, chopped

1

cup cauliflower, chopped
2⁄3 cup green onion, chopped
1⁄2 cup red pepper, chopped
2⁄3 cup celery, chopped

1

cup cheddar cheese, cubed or grated

1

cup milk
3⁄4 cup ranch dressing
1 1⁄2 cups Miracle Whip
1⁄2 cup sour cream

2

tablespoons green relish

2

tablespoons dill pickles, chopped finely

2

teaspoons mustard
1⁄2 teaspoon paprika
1⁄2 teaspoon black pepper
1⁄4 teaspoon garlic powder
1⁄2 teaspoon seasoning salt

2

teaspoons parsley flakes

1

teaspoon salt (optional)
Bring potatoes to a boil, and boil until fork tender, about 10-15 minutes.
Drain and let cool in large bowl.
Add eggs, and vegetables.
Put all liquids and spices into a blender and blend until thoroughly mixed.
Add approximately 3/4 of liquid to potatoes.
Stir well.
If needed, add rest of liquid, until potatoes are well coated and very creamy.
Refrigerate 2 hours.
Stir before serving.