My Best New England Clam Chowder
HisMonie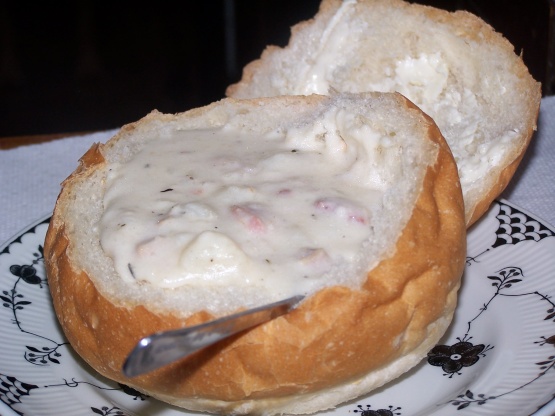 My husband and I love soups and chowders. This is one of my husband's favorites. Originally from a magazine clipping, I've "futzed" around with it until it suits our tastes. It makes one Dutch oven full and the servings depend on how much you eat. I usually eat one bowl and my husband finishes off the rest. (He loves it!) Start to finish it takes less than an hour to make.

This is outstanding, by far my favorite New England Clam Chowder!! The only change I made was using 3 - 4 slices of diced bacon (and using it's grease) instead of the salt pork, because it's hard to find in the stores here. Thank you, anni, for a new favorite on Friday nights!
Cover salt pork with water and bring to boil over med-hi heat. Cook 5 minutes.
With slotted spoon, transfer pork to dutch oven and cook over med-hi heat until crisp. Remove and discard pork and all but a little bit of the drippings.
Add butter and when melted, add the onions and saute until golden.
Stir in flour and cook over low heat 5 minutes, stirring constantly.
Stir in the pepper and thyme. Add potatoes, 1/2 & 1/2 and chicken broth.
Bring to a boil; reduce heat and simmer, stirring frequently, about 5 minutes. (Be careful and watch that it doesn't cook above a simmer or very long!).
Add clams, clam juice, parsley; simmer another 5 min.; stirring occasionally.
Add lemon juice and pepper sauce and salt to taste. Serve with oyster crackers.