My Best Ever Pink Salmon Patties
Marlene.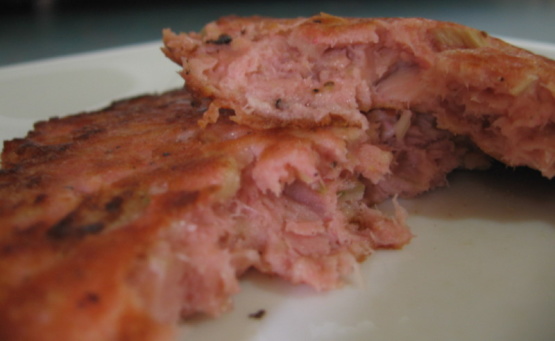 This is a favorite of my kids.... Its easy, tasty, and quite a penny stretcher. And goes great with the 99c bags of broccoli, cauliflower and carrot frozen vegetable melody, and a quick cheese sauce (3 tbsp. butter, 3 tbsp. flour, let cook 1 min. 1 1/2 cups milk, and and a cup of processed cheese like Velveeta (but the save-a-lot brand taste just as good and a lot cheaper) cut cheese up into cubes let melt. add about a dash of nutmeg, and a dash of pepper) and your done. Under 5 bucks to feed a family of 4 and probably with some leftovers. ALSO THESE SALMON PATTIES IF MADE INTO SMALLER PATTIES MAKE FOR A GREAT APPETIZERS SPECIALLY IF YOU WRAP THEM IN PUFF PASTRY AND BAKE (remember you must fry first). makes about 24 small 1/2 dollar-size appetizers. LEFTOVERS: They also make great for sandwiches, for school lunch bags or brown bags and picnics.
For myself, there is a LOT of seasoning flavors going on here. Almost to the point of distraction from the taste of salmon. Your directions didn't say to drain the salmon or not , so I did. Even with draining it , there was no way they could be formed into patties. I used my ice cream scoop to plop them in a fry pan and then I used the back of my pancake turner to flatten them down somewhat. I'm sure there are others that wouldn't mind the amount of seasoning at all. Just a personal preference thing I'm sure :) Made for Think Pink '08
Quick and easy!
Just add all ingredients into a medium size bowl; mix well.
Cover and let sit for at least 10 minutes to let the flavors and seasonings to merge together.
Form into patties.
Spray frying pan with butter flavored cooking spray (even though it does taste better if you put about 2 tablespoons butter in the frying pan let melt).
Place patties in pan; cook until crispy and dark golden brown on each side; about 3 to 4 minutes on each side, on medium to medium-high heat.