My Best Banana Pudding Dessert
dejrs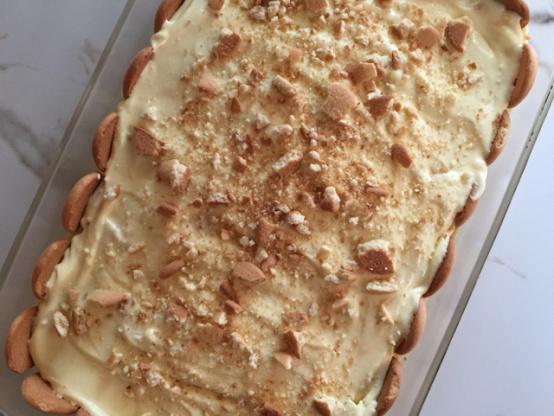 I have been asked to make this every year at Thanksgiving. Thought I would share my way of making banana pudding.

I think the whole 14oz can of SCMilk is too sweet. Add it gradually to the mixture until you find the sweetness you like. I should've done that in the first place. I'd say no more than half the can unless you want it really sweet!
In a large mixing bowl beat together vanilla pudding mix and milk for 2-3 minutes until it begins to thicken. Blend in the sweetened condensed milk and mix until smooth. Stir in vanilla extract and fold in the thawed Cool Whip.
In a 13x9x2 glass dish layer the bottom with Nilla wafers, add a layer of sliced bananas over top of wafers. Pour enough pudding mixture over top of the first layer of wafers and bananas to cover,leaving some pudding for more layers.
Repeat layers of wafers,bananas and pudding.
End with a few wafers on top.
Cover and chill in refrigerator for several hours.