My Awesome Cottage Cheese Tomato Sandwich
kate09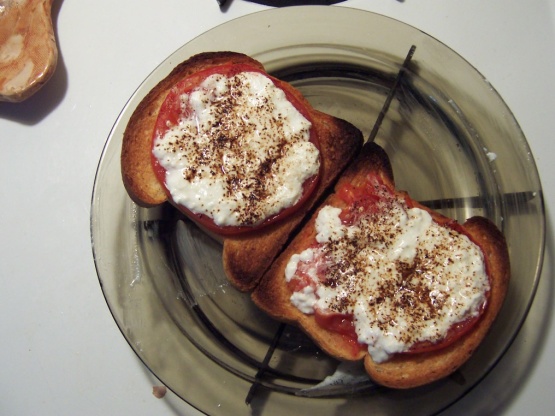 Very filling, a low calorie comfort food that you can eat at any time of day. Recipe is easily doubled, trippled, etc. I like to make this in my toaster oven but it can easily be made in a toaster and a broiler or on a grill.

very tasty!! definately enjoyed it. don't have a toaster oven so i just used an oven broiler... i'll have to play around with that to get it to be crispy enough for my tastes. maybe toast it first? we shall see! but definately a delicious and healthy sandwich
Set toaster oven on "toast" and place a slice of bread and a slice of tomato inside. After the bread is browned as much as you like it (I like mine VERY dark as you can see in the picture) flip it over. Leave the tomato.
After the second side is done, take the tomato and bread out of the oven and set it to "broil.".
At this step i also like to remove the skin from the tomato slice but that it optional. Place tomato on bread and spread cottage cheese on top. Sprinkle with chili powder.
Place under the broiler and broil until cottage cheese starts to melt.