diner524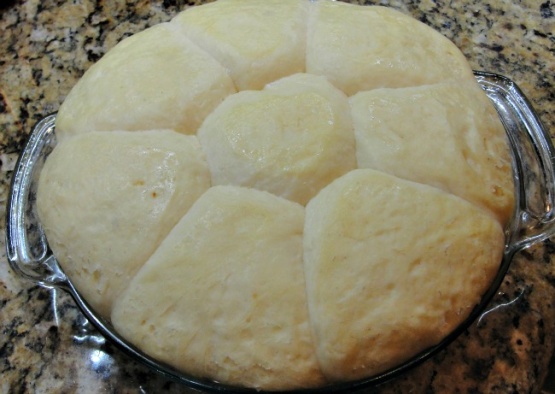 A delicious Hot Roll for any occasion. This was my Aunt Ruby's recipe and my family and friends really love the rolls.
Wonderful rolls!!! I made 1/2 of the recipe to serve with our Sunday lasagna dinner!!! I ended up rolling 8 balls, instead of 12, to make for the 4 of us!! We all loved them!!! DS and his girlfriend took the leftovers home. Thanks for sharing your recipe. Made for Spring 2013 PAC.
Combine milk, margarine, sugar, salt, potatoes, let cool and add yeast, then eggs. Add flour a cup at atime for easy mixing. Mix with hands or big heavy duty spoon till there are no lumps and the dough is pliable but not too flimsy. Cover the dough ball with oil (about a spoon full) like you would a pizza dough and let set 1 hour or until almost doubled in size. Knead for a few minutes, Sprinkle flour on your rolling out surface and roll out about ½ inch thick and cut with jar lid or biscuit cutter. Melt a little margarine and dab the tops lightly and let raise for about 3 hours. Bake at 350-375 for 16-20 minutes or until they are browned. You can also leave in the fridge overnight and roll out the next day.