Chickee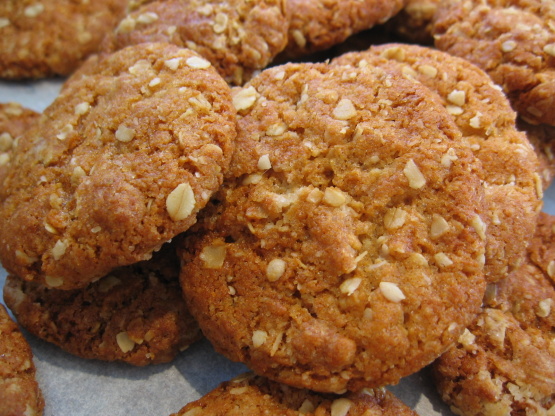 Based on an old recipe from a packet of oats, I've finally gotten to the point where I can make these perfectly. Keep an eye on them as they cook- I cook them two sheets at a time with the fan on (bake 20 degrees less when using the fan), but everyone's oven is different so be careful. Take them out when they are a uniform colour.

I used just margarine as that is all I had. These were nice but 10 mins in the oven and I had burned bottoms. I checked against other anzac recipes and they baked at 150 to 160C (a slow oven) so the second batch I did went in at 140 as my oven is gas. Success this time, and a lovely biscuit. Thanks!
Mix first 4 ingredients well.
Melt butter and margarine with golden syrup over gentle heat.
Dissolve bicarb in boiling water, stir into the syrup mixture and pour over dry ingredients.
Mix well.
Put heaped teaspoons 5cm apart on a baking tray, bake at 160 degrees for about 15- 20 minutes.
Leave on trays a few minutes before lifting off and allowing to cool.