My Amazingly Soft & Moist Chocolate Sponge Cake
Um Safia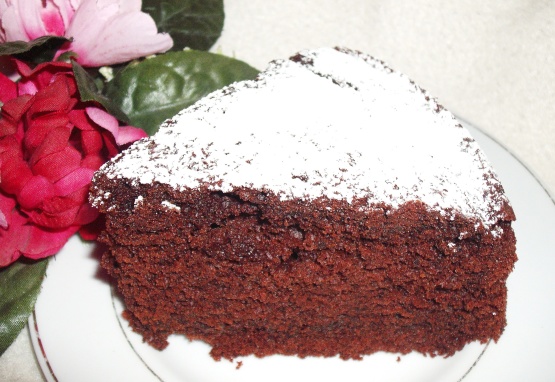 I have another recipe for chocolate cake on Zaar but this one has just become by new favourite. Unless I'm baking a really special chocolate cake for an event, I tend not to make cakes that call for chocolate as it is never in the cupboard when I come to bake! This chocolate cake is the result of years of playing around with recipes & I personally think it is fab. You get the same incredibly moist & soft sponge texture you find in a store bought cake but all the great taste of a homemade cake. In fact, I think that this cake is so rich it doesn't even need to be iced / frosted - of course, if you want a really indudgant treat, then go ahead & whack some on! I find that this cake freezes well for a couple of months & keeps well in an airtight container for around a week. I stated 1/3 cup cocoa in the recipe but if the cake if for adult chocaholics then you can always add more - I find that kids sometime find too much cocoa a bit bitter.
Preheat your oven to 180c & grease a 10" round springform cake tin.
Warm the margarine up in the microwave for about 20-30 seconds, it needs to be extremely soft but not liquid.
In a fairly large bowl, beat the sugar & the warmed margarine together. Unlike a regular sponge, you don't need to do this for more than a couple of minutes - creaming to get it fluffy is not required here!
Next beat in the eggs, once they are fully incorporated add the baking powder & cocoa powder. Carefully mix them in then quickly beat the mix for a minute.
Mix in the flour, being sure to get it well mixed & break up any lumps that may be lurking.
Finally, mix in the water little by little.
Pour the cake batter into the tin, level off & place in the centre of the oven to bake for 40 minutes.
As soon as 40 minutes have passed, turn the oven off & leave the cake in there for 10-15 minutes before removing.
Leave the cake in it's tin for 10 mins then pop out & leave to cool on the serving plate.
Once the cake has cooled, give it a generous dusting of confectioners sugar.