JustJanS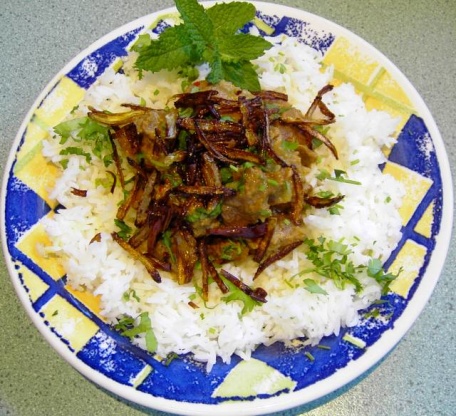 This is from Anjali Vellody's Foodcourt column, Weekend.

We try to eat a different curry about once a week, so it's hard to get really excited about them. Charishma, this was excellent. It was simple, but the flavour was fantastic. We used 2 tooth, a sheep older than lamb, but younger than mutton. It took 2 1/2 hours of cooking for it to be tender, and we had to keep adding water as it evaporated but I think this really added to the flavour. No changes to a great recipe that we'll make again.
500

g boneless cubed mutton

2.46

ml turmeric powder

118.29

ml plain low-fat yogurt, beaten

29.58

ml oil

To be ground to a paste

1

onion, peeled,washed and chopped

1

inch fresh ginger, peeled,washed and chopped

2

clove garlic, peeled,washed and chopped

9.85

ml coriander seeds

4.92

ml cumin seed

2

whole red chilies

4.92

ml garam masala powder

2.46

ml black pepper

1

maggi vegetable stock cube, with onion

For garnishing

1

onion, thinly sliced lengthwise and fried till crisp

14.79

ml fresh coriander leaves, washed and finely chopped
In a large bowl, combine together the mutton cubes with turmeric powder and yogurt.
Mix well and allow to marinate for 4 hours.
Heat oil in a skillet.
Add the ground paste and stir-fry until the oil floats on top.
Add the mutton cubes alongwith the marinade and the stock cube.
Stir-cook until the mutton is well-browned.
Add a little warm water and cook until the mutton is tender.
Garnish with fried onions and chopped corriander leaves.
Serve hot with parathas!