Mustardy Potato Pierogies
Gatorbek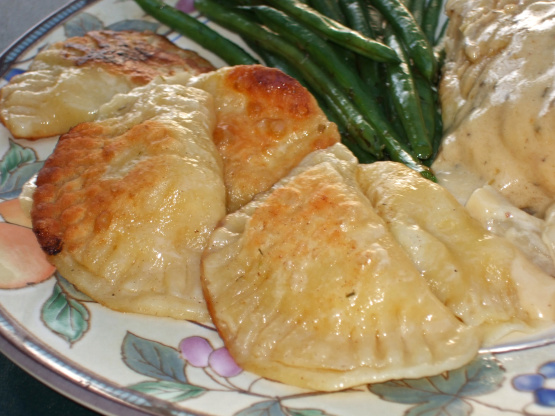 A lovely twist on regular potato perogies. An added zing that goes wonderfully if you serve them with meat, or simply alone. From fw. 06. can be made ahead 3 days, see note at bottom.Recipe by Grant Achatz From Comfort Food From a Rebel Chef

I was a bit daunted by the prospect of making pierogies - these were much easier than I thought! DD even got the hang of it, helping me seal them with a fork. The only thing I'd watch next time is the heat of the pan when frying them. Mine got too hot, and they did brown up quickly. so for my stove, I'd stick to medium, almost medium-low. I also got closer to 30, rather than 20 - this serves A LOT more than our little family of four!! :) We ate them as a side dish, and I don't think we even ate half of them - and not for lack of trying! Thanks for posting!
MAKE THE PIEROGI DOUGH: In a large bowl, mix the flour with the sour cream, egg, egg yolk, butter and salt. On a lightly floured work surface, knead the dough briefly until smooth. Cover the dough with plastic wrap and let rest at room temperature for 15 minutes.
MEANWHILE, MAKE THE FILLING: In a medium saucepan, cover the potatoes with water and boil until tender, about 12 minutes. Drain the potatoes and peel them as soon as possible. In a bowl, mash the potatoes with the sour cream, mustard and 2 1/2 tablespoons of the butter until smooth. Season with salt and pepper.
Bring a large pot of salted water to a boil. On a floured work surface, roll out the pierogi dough " inch thick. Using a 3 1/2-inch biscuit cutter, stamp out 20 rounds. Brush off any excess flour and moisten the edge of each round with water. Place a level tablespoon of the potato filling on one side of each round, leaving a 1/4-inch border. Fold the dough over the filling to form half-moons and press the edges firmly to seal.
Cook the pierogies in the boiling water until tender, about 5 minutes. Drain well and transfer to a large, shallow dish. Add a little vegetable oil and toss to coat lightly.
In a large skillet, melt the remaining 1 1/2 tablespoons of butter. Add the pierogies and cook over moderate heat, turning once, until browned, about 3 minutes per side. Transfer the pierogies to a platter. Season with salt and pepper, sprinkle with the parsley and serve.
MAKE AHEAD The pierogies can be prepared through Step 4 and refrigerated for up to 3 days.