3 Reviews
This is very good soup. I used 2 tablespoons of brown mustard then found I wanted to add a bit of dijon mustard after tasting. I tried to save some for my SIL but it curdled, maybe I did something wrong? Still it was a great tasting soup and soo easy to make. Thanks Iceland.

simple but very good dont be afraid of this soup it would be perfect with a ham sandich and caulifower i agree that it takes about 2 tablespoons zaar tour 6

OUTSTANDING!! Low-cal, easy and really tasty. Don't be put off by this recipe because it seems a tad weird, it was great! BF was as enthusiastic about it as I was. We served this with a German salad and potatoes. I used Kosciusko mustard, my favorite, and a light cream. I used about 2 tablespoons mustard. Who would have thought this would be so great? I'd make this again for sure. Great for an extra dish to add to dinner without a lot of extra calories. Good enough for company. Try this, you won't regret it.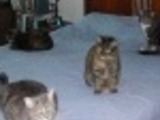 Mustard Soup