Mustard Sauce for Corned Beef
JustJanS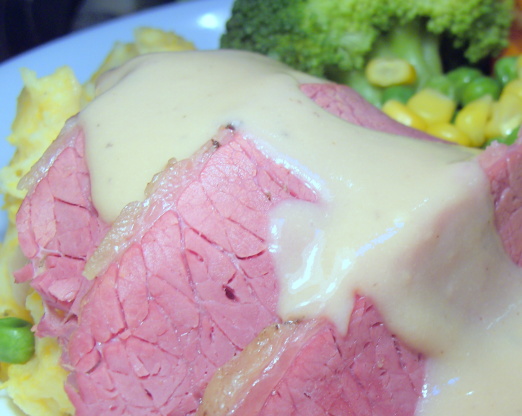 My mother's recipe is a family favourite.

Top Review by Bobbie
Served this luscious sauce with our corned beef last night and it was wonderful. Very easy to make (I used about 1/2 cup of the corned beef broth and apple cidar vinegar). I made the sauce about 2 hours ahead of time, let it sit on the stove (which was warm from all the other cooking), then turned the heat on under it just prior to serving. I think this would be great with pork and ham. We surely enjoyed your Mother's recipe and understand why it is a family favorite.
Mix the egg, mustard and sugar together.
Add the vinegar and beef liquor.
Heat gently without boiling.
Serve hot or cold with hot or cold corned beef.