Janine1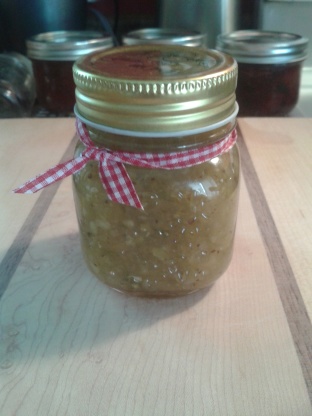 Great on brats, hot dogs and burgers. Puts a zing in potato salad also.

Top Review by Kim D.
I made this to serve on Beer Brat's and hotdogs and it was a huge hit! The recipe calls for 3/4 oz. of powdered fruit pectin, but the packets I found in the store were sold in 1 3/4 oz. packets. I'm not sure there was a typo in the recipe, but I used about a half of packet. Turned out fine. I will definatley make this again, but next time, I might double the recipe!
Peel and seed cukes and finely chop.
Finely chop onions and peppers.
Place in a colander and drain for 1 hour-squeeze and toss into a large pot.
Add vinegar, mustard, horseradish, salt, celery seed and ginger.
Add pectin and mix WELL.
bring to a full rolling boil and all the sugar.
Bring to a hard boil again and boil for 1 minute-your doing a lot of stirring also.
Remove from heat, skim and ladle into hot sterilized jars leaving 1/8 inch head space.
Process for 10 minutes at altitudes up to 1000 feet.