Mulligan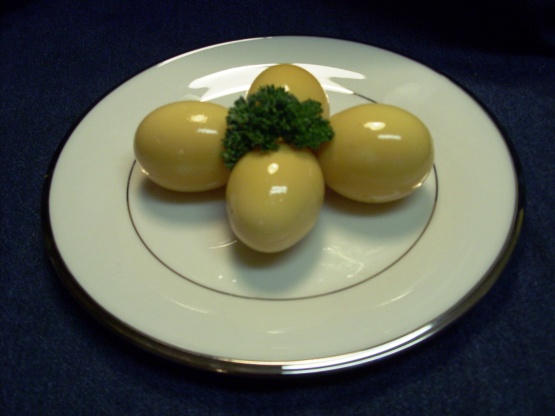 If you dig pickled eggs, give these a try. The food coloring is optional..... it just gives a more dramatic deep yellow color. Cook time is chilling time.

Wow, these were so good! I've never had a pickled egg before, so I went into eating one with a bit of trepidation. No need! I loved a few bites straight out of the jar, but then I admit I decided to make egg salad with the rest because the flavors seemed to beg for it. With pickles, celery, and just a touch of mayo/mustard this made the best egg salad I've ever had. Thanks so much for posting! Made for ZWT 6.
Place the peeled eggs in a non-metal bowl or jar.
In a saucepan over medium heat, mix together cider vinegar, sugar, onion, mustard powder, garlic powder, salt and food coloring (if using it). Bring just to a simmer.
Pour over the eggs and allow to cool.
Cover and chill for at least 48 hours to allow flavor to develop.