Mustard-Grilled Italian Sausage Sandwiches
PaulaG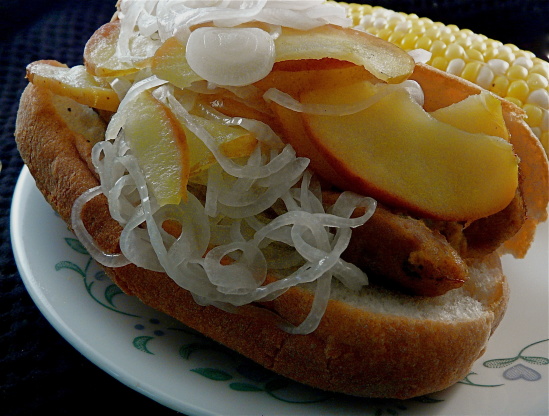 This is from a recipe card I got at the grocery store. It's a great fall dish for game days!

We had really mixed feeling about this recipe.
I used a different sausage to one that I would usually use ( a supposedly healthier one!) unfortunately we really didn't like the flavour of it, but we are not marking the recipe down on that fact...we could imagine the mustard mixture on our usual sausages would have been great!
We weren't too keen on the apple/onion combination though...didn't really do it for us...but it is only personal preference...everyone else seems to love it!
Slice the onion thinly and separate into rings. Core the apple and slice thinly. Mix mustard and oregano together. Prick sausages in several places with a fork.
In a medium bowl toss the onions, apple, and olive oil. Fold a 36x18" sheet of heavy foil in half. Place onion/apple mixture on the foil. Fold edges together and crimp to seal.
Heat the grill to medium heat (direct). Place foil packet on grill; close and grill for 10 minutes.
Add sausages to the grill rack (leave the foil packet on). Brush with mustard mix. Grill 16-18 minutes, until no longer pink, turning occasionally and brushing with mustard mix.
Serve sausages in the buns, topped with the onion/apple mixture.