Mustard-Glazed Pork Skewers
IngridH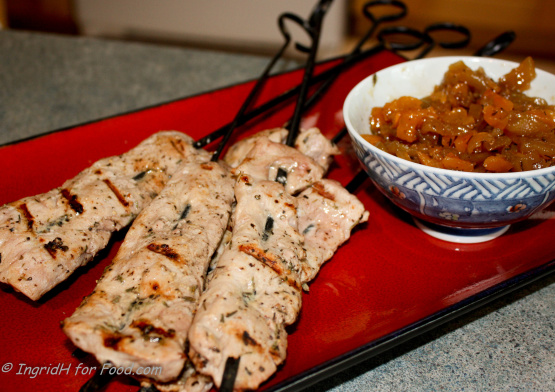 Found online; perfect for summer grilling

We absolutely loved this! It was so easy to make, and just looked spectacular on the plate. I made the chutney two days ahead, and was very pleased with the way it turned out. The fruit was soft, and just a bit sweet, which was a perfect match for the tangy pork. I typically don't use apple juice, so subbed a bit of hard apple cider for it (and enjoyed the rest of the bottle while I grilled!). This is a definite make-again, perfect for a backyard party or a weeknight dinner (as long as you make the chutney ahead). Thanks for sharing!
118.29

ml brown sugar, packed

118.29

ml white wine vinegar

2.46

ml fresh ginger, grated

1

small garlic clove, minced

1.23

ml ground cinnamon

473.18

ml tart cooking apples, peeled, cored, and chopped (2 medium)

118.29

ml dried apricot, snipped

59.14

ml onion, chopped

2.46

ml dried thyme, crushed

44.37

ml apple juice

29.58

ml dijon-style mustard

2.46

ml dried thyme, crushed

566.99

g boneless pork loin
Soak twenty to twenty-four 6-inch wooden skewers in water for 30 minutes before grilling or broiling. Drain before using
For chutney:.
In a medium saucepan, stir together brown sugar, vinegar, ginger, garlic, and cinnamon. Stir in apple, dried apricots, onion, and 1/2 teaspoon thyme. Bring mixture to boiling over medium heat; reduce heat. Cover and boil gently for 10 minutes. Uncover and boil gently about 5 minutes more or until chutney reaches desired consistency. (A small amount of liquid should remain.) Cool slightly. Transfer to a serving bowl.
Meanwhile, in a small bowl, stir together apple juice, Dijon mustard, and 1/2 teaspoon thyme; set aside.
Trim fat from pork. Cut pork across the grain into thin strips about 3 inches long and 1 inch wide.
Thread pork strips, accordion-style, onto wooden skewers.
Lightly brush mustard mixture on both sides of pork
Place skewers on the rack of an uncovered grill directly over medium-hot coals.
Grill for 7 to 8 minutes or until pork is slightly pink in center, turning once. (Or place skewers on the unheated rack of a broiler pan. Broil 5 to 6 inches from the heat for 7 to 8 minutes or until pork is slightly pink in center, turning once.)
To serve, arrange skewers on a serving platter; serve with chutney.
Make-Ahead Tip:
Prepare the chutney as directed; cool. Transfer to an airtight container and chill for up to 2 days. Let stand at room temperature for 30 minutes before serving.