Mustard-Glazed Pork Skewers
IngridH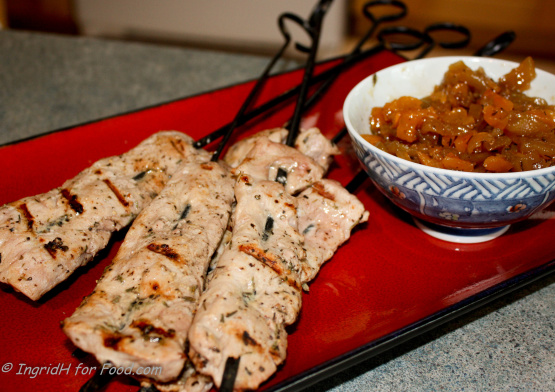 Found online; perfect for summer grilling

We absolutely loved this! It was so easy to make, and just looked spectacular on the plate. I made the chutney two days ahead, and was very pleased with the way it turned out. The fruit was soft, and just a bit sweet, which was a perfect match for the tangy pork. I typically don't use apple juice, so subbed a bit of hard apple cider for it (and enjoyed the rest of the bottle while I grilled!). This is a definite make-again, perfect for a backyard party or a weeknight dinner (as long as you make the chutney ahead). Thanks for sharing!
1⁄2 cup brown sugar, packed
1⁄2 cup white wine vinegar
1⁄2 teaspoon fresh ginger, grated

1

small garlic clove, minced
1⁄4 teaspoon ground cinnamon

2

cups tart cooking apples, peeled, cored, and chopped (2 medium)
1⁄2 cup dried apricot, snipped
1⁄4 cup onion, chopped
1⁄2 teaspoon dried thyme, crushed

3

tablespoons apple juice

2

tablespoons dijon-style mustard
1⁄2 teaspoon dried thyme, crushed
1 1⁄4 lbs boneless pork loin
Soak twenty to twenty-four 6-inch wooden skewers in water for 30 minutes before grilling or broiling. Drain before using
For chutney:.
In a medium saucepan, stir together brown sugar, vinegar, ginger, garlic, and cinnamon. Stir in apple, dried apricots, onion, and 1/2 teaspoon thyme. Bring mixture to boiling over medium heat; reduce heat. Cover and boil gently for 10 minutes. Uncover and boil gently about 5 minutes more or until chutney reaches desired consistency. (A small amount of liquid should remain.) Cool slightly. Transfer to a serving bowl.
Meanwhile, in a small bowl, stir together apple juice, Dijon mustard, and 1/2 teaspoon thyme; set aside.
Trim fat from pork. Cut pork across the grain into thin strips about 3 inches long and 1 inch wide.
Thread pork strips, accordion-style, onto wooden skewers.
Lightly brush mustard mixture on both sides of pork
Place skewers on the rack of an uncovered grill directly over medium-hot coals.
Grill for 7 to 8 minutes or until pork is slightly pink in center, turning once. (Or place skewers on the unheated rack of a broiler pan. Broil 5 to 6 inches from the heat for 7 to 8 minutes or until pork is slightly pink in center, turning once.)
To serve, arrange skewers on a serving platter; serve with chutney.
Make-Ahead Tip:
Prepare the chutney as directed; cool. Transfer to an airtight container and chill for up to 2 days. Let stand at room temperature for 30 minutes before serving.