Mustard-Glazed Pork Chops
Kelly M.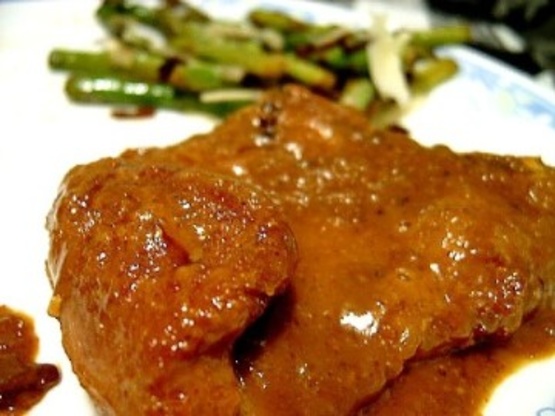 We love mustard and pork together. A tangy-sweet pork chop dish that my family and I love.

Wow! This is the first 'zaar recipe that my boyfriend said deserved 5 stars. We loved the flavor, and built and entire meal around it, making a warm potato salad with a mustard vinaigrette and a green salad with some mustard in the dressing. The chops turned out very moist with delicious flavor. Thanks for sharing!
In a saucepan, add the brown sugar, dijon mustard, vinegar, molasses, and ground mustard.
Whisk until mixture is smooth and blended.
Bring mixture to a boil, over medium heat; stir often.
Lower heat, cover pan and simmer 2-3 minutes or until thickened.
Place chops in a 13x9 inch baking dish sprayed with non-stick cooking spray.
Spoon sauce over chops; turn chops to coat.
Bake, uncovered, at 350° for 18-22 minutes or until juices run clear; baste occasionally.