Mustard Dill Potato Salad
Parsley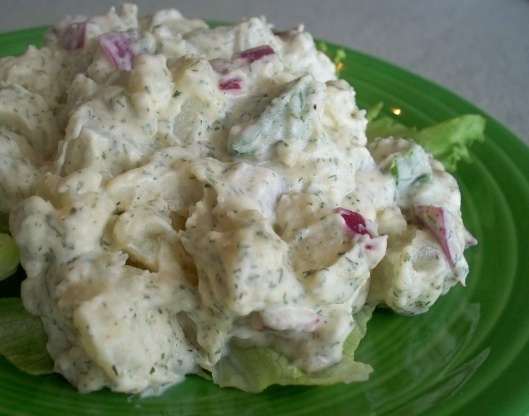 Everyone flips when they taste this potato salad. It is different from all the others. The dill and red onion and lime make the creamy dressing so special....it just sings with flavor. Cooking time includes cooling the potatoes.

This was so great! The tangy-ness of the lime and flavor of dill worked so well! I do think you need another pound of small red potatoes - it made a little too much sauce for the amount of potatoes in the recipe. It's just like one at my favorite BBQ place in Dallas!
Directions:
Place the potatoes in a saucepan and cover with water. Cover and bring to a boil; cook until tender . Drain thoroughly and cool in the refrigerator for about 45 minutes.
Combine the remaining ingredient in a large bowl. Add cooled potatoes and fold the two together.
Chill at least 4 hours to blend the flavors. Overnight is best.