Mustard-Crusted Roast New Potatoes With Shallots and Garlic
French Tart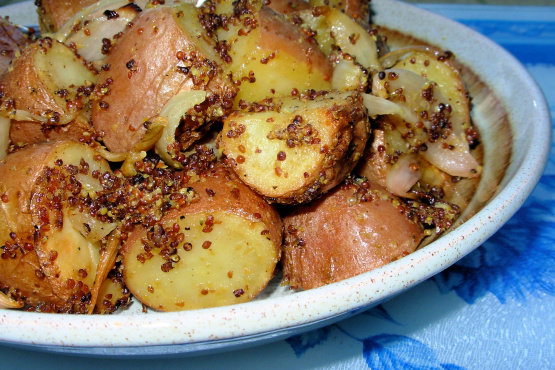 A flavour packed roast potato recipe which results in crisp and crunchy little new potatoes with caramelised shallots in a wholegrain mustard crust. Wonderful for dinner parties as well as BBQ's. These are SO easy to prepare, no peeling required and they can be prepared ahead of time; just let them sit in the mustard and oil marinade until they need to be roasted..

I needed a quick and easy dish for new potatoes and to go with some burgers. I used olive oil, dijon, garlic, pink sea salt and pepper. I did not par boil them, small and garden fresh, cooked in the time given. They were delicious. this is going to appear alot on our table in new potatoe season! Thanks for sharing.
Pre-heat the oven to 200C/400F/Gas 6.
Par-boil the potatoes for 3 to 5 minutes and then drain well.
Place the potatoes into a large bowl with the oil, mustard, salt, pepper, shallots and garlic and mix well.
Toss the potatoes well so they are all evenly coated with the seasonings, oil and mustard.
Transfer them to a roasting tray and roast them in the pre-heated oven for 35 to 45 minutes or until the mustard forms a golden crust and the potatoes are crisp and cooked.
Gently toss them in the tin before serving hot with chicken, sausages, roasts, stews or with burgers and pies.