GaylaJ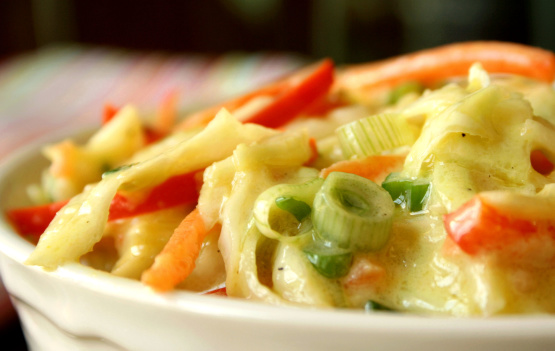 This is a favorite when our family cooks BBQ brisket, potato salad and beans. Very creamy mustard dressing.

Top Review by GaylaJ
We really enjoyed this with our corned beef sandwiches. As written, there would have been too much dressing for our tastes, though. Rather than the 2 cups cabbage and 1 cup carrots called for, I used 6 cups slaw mix, but left all other ingredients the same. This ratio seemed right for us, and we really enjoyed the mustard flavor for a change. Thanks for sharing your recipe!
In large bowl, combine cabbage, carrots, pepper, and green onions.
For the dressing, in medium-size bowl, combine oil, vinegar, sugar, mustard, salt, pepper, and mustard seeds. Fold in sour cream.
Pour dressing over vegetables; toss to mix well. Cover and refrigerate slaw 1 hour before serving.