Mustard Chicken With Roasted Vegetables
IngridH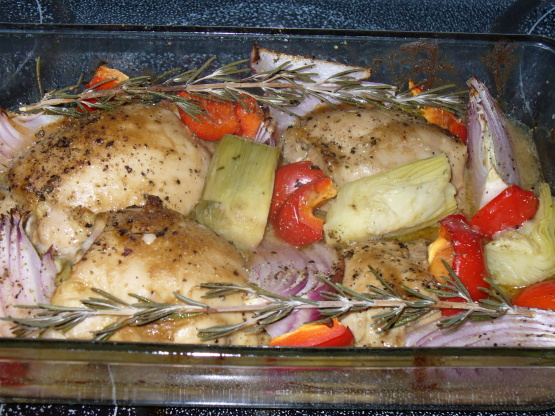 This one-pot dish couldn't be simpler. Use our mustard chicken recipe as a base then experiment with other veg such as zucchini or eggplants. While you've got the oven on, why not serve the chicken and veg with baked potatoes, hot garlic bread or baby new potatoes roasted in olive oil and garlic?

This is a really good recipe. I cut it in half, and served two with plenty of leftovers for lunch. While I really enjoyed it as written, I would change it a bit by using less of the wine in the roasting pan. Between the wine and the liquid released by the food, I had a dish that was more stewed than roasted. It still had great flavor, but not the roasted flavor that I was looking for. I think next time, I will try using fingerling potatoes and zucchini instead of the peppers. Additionally, since I really love garlic, I'll mince the garlic and add it to the mustard mixture. The whole cloves didn't roast enough to give that oozy, sweet garlic taste that I love in roasted garlic. Overall, I'd be happy to eat this again as written, but I think it has potential to be an outstanding dish with a few changes. Thanks for a lovely dinner.
Preheat the oven to 350°F Put the chicken in a bowl, mix together the mustard, oil and balsamic, then add to the chicken and toss together with plenty of salt and black pepper.
Arrange the chicken, skin-side up, in a large ovenproof dish or roasting tin. You don't want everything crammed in or it will steam and not roast.
Add the pepper, onions and garlic, pour over the white wine and tuck in the rosemary sprigs.
Bake in the oven for around 30 minutes, add the artichokes, then cook for a further 10 minutes or until the chicken is well browned and cooked through.