Mustard Chicken and Cabbage - Hcg Phase 2
teresas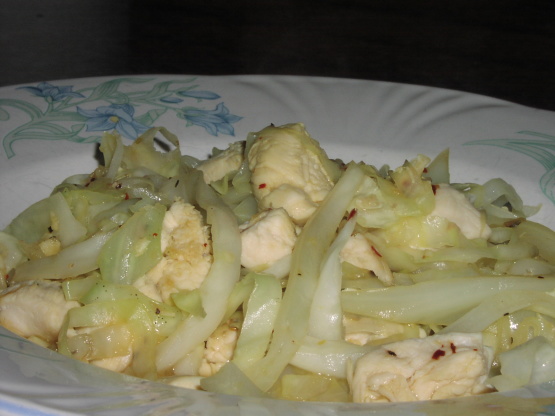 Came up with this for something different for dinner during phase 2 of the diet. Technically soy sauce isnt in the protocol because it does contain a very small amount of sugar. I didnt mind adding such a small amount, but if you are stricly following the protocol you can substitute Bragg's Amino's for the soy sauce. (I just didnt want to drive to the nearest big city to find a health food store that sells Bragg's) This site lists total sugar in this recipe as 4.5 grams, however the soy is the only thing that has even a trace of sugar in it, and my bottle of Kikkoman Low Sodium says 1gram total carb for a full tbsp of soy sauce, so this site is incorrect (as it does average for national brands)

This was great! I took a second look because of the cabbage/chicken combo - I had them in the fridge, but I made it because a review said filling and I was hungry! Use the Bragg's Amino Acids as a sub for the soy sauce - Deee-lish! Thank you!
Cube the chicken into bite sized pieces, add to a hot pan. Cook for 2 mins and add a 1/4 cup water to loose from bottom of pan. Turn and immediately add the cabbage. Stir frequently until cabbage starts to wilt and chicken is cooked through.
Add mustard, soy sauce, garlic powder, salt and pepper.
Pour all into a bowl and enjoy.