Alia55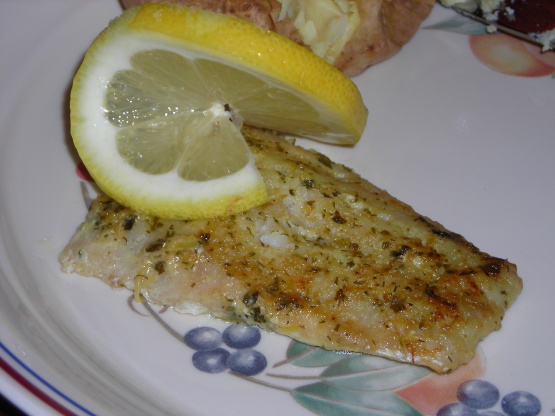 This is very yummy and haws a great flavour. I tend to use dijon mustard just to give it an extra boost. Also, I find fresh lemon juice has the best flavor. If you do not have mackerel, you can use any white fish in it's place.

We enjoyed this recipe. It's quite mild-flavoured but but the fish was beautifully moist and easily cooked. Ppersonally I think it needed more mustard...we used spicy brown. It would be great for people recuperating from an illness who can't handle strong flavours. Thanks Alia!
Bone and fillet fish.
Rinse under cold water and pat dry.
Place fillets, skin side down on a greased broiler pan.
Combine 1 tbsp melted butter, parsley, salt and pepper and brush fish well.
Broil 2 to 3 inches from heat about 5 minutes. Do not turn.
Mix remaining butter with mustard, dill and lemon juice.
Pour over fillets and broil for 5 minutes longer or until fish flakes easily with a fork.
Serve garnished with lemon slices.