teresas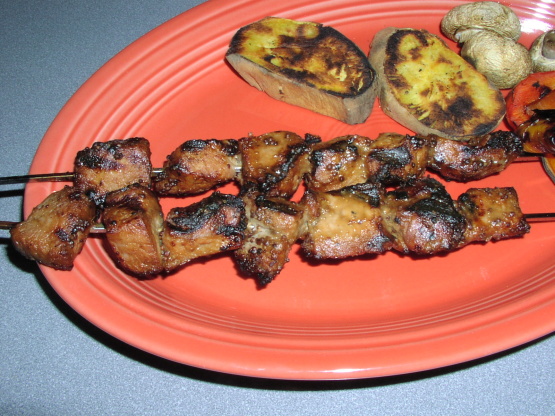 A great and easy dish but it must be marinated overnight. This recipe is great for the summer and it cooks very rapidly. Hope you enjoy!
Combine all ingredients in a resealable plastic bag and mix well.
Marinate in refrigerator 6-24 hours.
Turn on broiler or prepare grill.
Remove pork from marinade and thread pork cubes onto skewers (If using wooden skewers, soak skewers in water 1 hour before using).
Broil or grill kabobs about 4 inches from heat source, about 8-10 minutes, turning and basting occasionally, until nicely browned.
Serve with yellow rice with parsley, a spinach dish and with a nice Burgundy wine.
Enjoy!