Mustard Baked Potatoes With Olives
acid.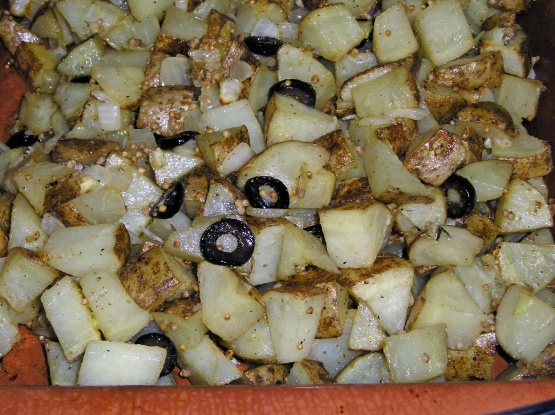 From the *Dinner Party* cookbook of the Australian Women's Weekly cookbook series, this is a new, easy-to-fix & flavorful way to serve a potato side-dish. I usually do not serve a new dish to guests, but we had unexpected company for dinner the nite I 1st made these potatoes. Our guest devoured 3 helpings & DH 2 had helpings. Icelanders revere their potatoes, so my trial proved my view that these are very good! *Enjoy*

Great recipe. I did omit the mustard since I did not have them. Made for your win for the Foot Ball Pool 2010 week 12
Preheat oven to 425°F & cut potatoes into 3/4-in chunks.
Heat oil in a lrg baking dish. Add potatoes, onion, garlic, mustard seeds, dry mustard + herbs & stir to combine.
Bake (uncovered) for 30 minutes. Remove from oven, add olives & stir to combine.
Bake a further 30 min (uncovered) or till potatoes are fork-tender, brown & crisp.
NOTES: Recipe noted this was best made close to serving time & was not suitable for freezing. While the recipe does not suggest this, I found it best to stir the potatoes at 15 min into ea of the 30 min cooking times to keep the ingredients well-mixed & the potatoes browning evenly.