Mussels With Potato and Garlic
Thorsten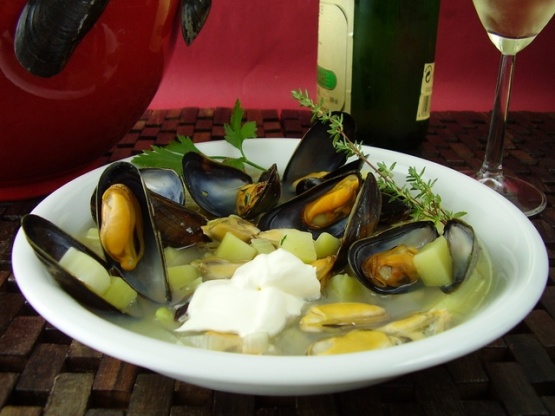 Mussels are so tasty that they require very little embellishment. Here they are partnered with garlic potatoes and herbs to give a gutsy low-fat treat. It is important not to boil the mussels too much or they will become tough. Add a splash of cream at the last moment for extra luxury. From "Gourmet Ireland" by Paul and Jeanne Rankin.

Mussels, mussels, oooh, how I love mussels. The basics of a great mussels recipe are so easy. Water, white wine, some herbs and mussles. I've never tried it before in a combination with potatoes and garlic. Another winner and another recipe how I can serve mussles. I suggest to add a splash of cream and do not change anything else. You CAN'T go wrong!!! Even, if you have some picky eaters around you, this type of mussels will be a winner. The reason: the potatoes will blend all the different falvors so well. Serve it with the white wine you have used for the sauce / soup or with a local beer. Make enough, everyone will ask you for a second serving. Thanks Kate for another addition to my mussels repertoir.
Wash the mussels in plenty of cold water, pulling away the hairy beards as you go. Discard any that are not closed or do not close when tapped sharply with a knife. Bring the water and white wine to a boil in a large pan.
Add the herb sprigs and garlic and simmer for 1 minute.
Add the mussels, bring to a vigorous boil and cook for 4 to 5 minutes, or until they have all opened.
Discard any mussels that have not opened. Immediately drain into a colander, catching all the juices in a bowl underneath.
Strain the juices through a fine sieve into a clean pan and add the leeks and potatoes. Cook over medium heat for about 7 minutes, or until the potatoes are tender.
While the potatoes are cooking, pull the mussels from their shells. Save a few of the shells for garnish.
To serve, add the mussels and chopped parsley to the potato broth and warm thoroughly. Check and adjust the seasoning to taste. Serve in warmed bowls garnished with a few nice shells.