Mussels W/White Wine and Creme Fraiche
Kim127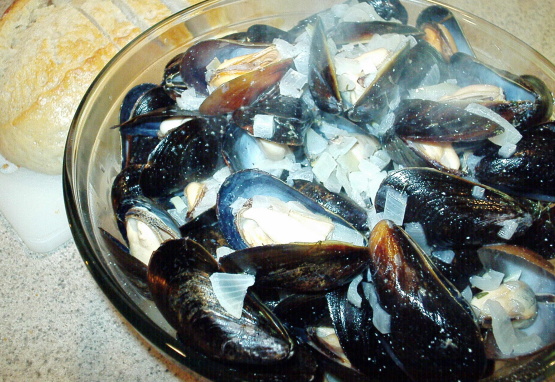 from today's NY Times, this serves 4 as an appetizer or 2 as a main course.

Top Review by Kim127
I really liked the flavor the mussels got from the fresh thyme, complimented very nicely. I did substitute sour cream for the creme fraiche. I had all the ingredients to make it and then realized it was supposed to sit for day or so. I really didn't want the mussels to sit around so I used the sour cream. I still think it was a great recipe, so I am sure the creme fraiche would have been wonderful. Thanks Chia!!!
In a wide skillet with a lid, melt butter over medium-high heat. Add onion and shallot, and stir until very soft and beginning to turn gold, about 5 minutes; do not let them brown. Add thyme and bay leaf and stir. Add wine and 1 cup water and bring to a boil over high heat. Add mussels, cover, and cook until open, about 4 minutes.
Transfer mussels to serving bowls with a slotted spoon and boil liquid in the pan until reduced to a sauce. Turn off heat and whisk in crème fraîche and salt and pepper to taste. Pour over mussels and serve with crusty bread.