Thorsten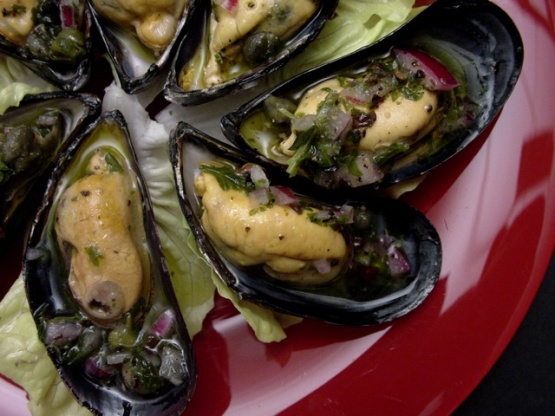 Fantastic appetizer !! These mussels are heavenly!!, do lots, they will go quickly,

Top Review by Mia 3
This is exactly how we make them here in Portugal, I live close to the ocean so its easy to alway ´ have them fresh. The only differece, in mine is that instead of using ground pepper I use tobasco sauce, but thats just my personal preference, other than that its the same. Lovely with a nice COLD glass of white wine, and some fresh crusty bread to dip into that wonderful vinaigrette. Ummmm could go for some right now!! lol...lol...
Scrub mussels well and remove the beards.
Discard any that do not close tightly, set aside.
Whisk the oil and vinegar together in a bowl, then add capers, onion, pimiento, parsley, salt and pepper to taste.
Place one cup water in a frypan with the lemon slice.
Add the mussels and bring to a boil.
Remove the mussels as they open;cool.
Remove the mussel meat from the shells, reserving half the shells, and mix it into the vinaigrette.
Cover and refrigerate overnight.
Clean the reserved mussel shells well and place them in a plastic bag in the refrigerator.
Before serving, replace the mussels in the shells and spoon a small amount of the vinaigrette over.