Mussels on the Half Shell
Kaja L.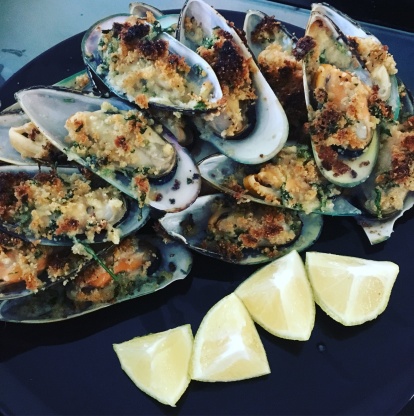 I buy "New Zealand Green Lipped Mussels" on the half shell frozen from my supermarket. They are quite reasonable, and cooked this way, I think, very delicious. They make a terrific appetizer. I developed this recipe by taking the one on the box and adding lots of extra flavour.

really good and delicious
Thaw the mussels.
Drain them well, squeezing out extra liquid from the mussels.
Put them on a cookie sheet.
In a bowl, combine the breadcrumbs, butter, parsley, garlic, lemon zest, Parmesan cheese, salt, and pepper.
Squeeze the lemon over the mussels.
Put the bread crumb mixture equally on the mussels and press down a little.
Broil for 5 to 6 minutes until the bread crumb mixture is crunchy and brown and the mussles are cooked.
Serve and enjoy!