Bergy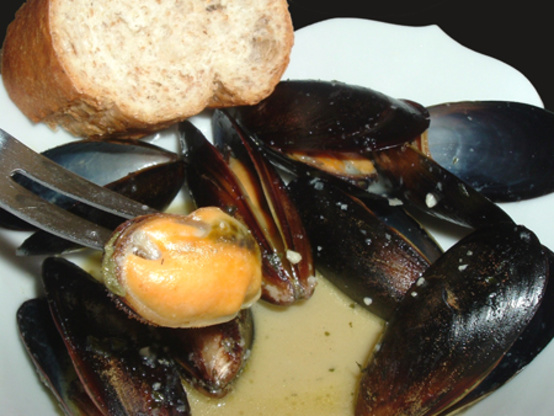 I haven't made this yet, but I got this from the Williams-Sonoma Seafood book. I love seafood and I am planning to try this once I get a break from my exams and assignments. They suggest serving this with crusty baguette.

Top Review by Bergy
5 star all the way. I used frozen Mussels. I cut the recipe back to apprx 1 lb mussels(served 2 for an appetizer). Used whole wheat baguette pieces to soak up the MMMM sauce. Chop the leek very fine - I used a mini chopper. Thanks for posting this recikpe
In a large heavy saucepan,over medium heat, melt 2 table spoons of the butter.
Add garlic, shallots, leek, thyme, lemon zest, and bay leaf. Saute until the shallots and leek are translucent, about 3 minutes.
Add the mussels to the pan, discarding any that do not close to the touch, and pour the vermouth or white wine over them. Cover and raise the heat to high. Cook, shaking the pan with one hand and holding the lid on with the other, until the mussels have opened, 4-5 minutes. Discard any mussels that do not open. Discard the bay leaf.
Turn off the heat and add the remaining 2 tablespoons of butter to the liquid in the pan. Shake the pan gently until the butter melts. Stir in the lemon juice and sprinkle generously with pepper. Sprinkle the parsley over the mussels and shake the pan again.
When serving, divide the mussels over 4 warmed deep soup bowls. Pour the pan liquid over the mussels, dividing it equally among the bowls, and serve immediately with the toasted bread for dipping into the liquid.