Mussels in Tomato-Basil Wine Sauce
MorJoy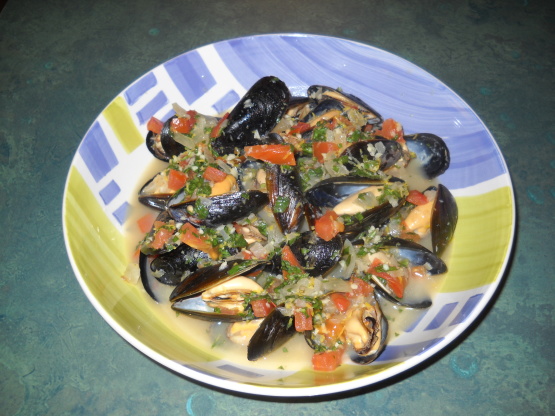 I love mussels and this is a great recipe. It is from my favorite magazine Coastal Living. One day I might actually live on the coast! It is my dream!
Delicious! Yet another way to serve mussels. I do live on the coast, but mussels are only sold in 2 or 5 lb bags. That's a lot of mussels for two people! Very glad to have this alternative. In future, though, I will add some chicken broth so that their is more sauce. Made for ZWT 6.
Heat olive oil in a large, deep skillet over medium-high heat; add onion and garlic, and sauté 3 to 5 minutes or until tender. Add wine and tomatoes, and bring to a boil. Add mussels; cover and cook 3 to 5 minutes or until mussels open. Discard any unopened mussels.
Remove mussels with a slotted spoon, and place in serving bowls. Add basil, lemon rind, and pepper to liquid in pan; add butter, and swirl in pan until melted. Spoon sauce over mussels. Serve immediately with warm, crusty bread.