Mussels in Red Wine Sauce
Hquadra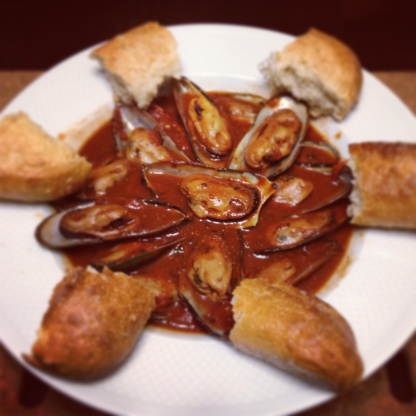 Last weekend I was craving mussels, but didnt have the ingredients for my favorite recipe, so I came up with this one. It's now my New Favorite Recipe. Keith's thoughts...."You can make this anytime and it wont hurt my feelings any" which translated means-GREAT! Serve with your favorite salad, I made Classic Ceasar, and a loaf of hot bread to sop up the sauce.
I too only had red wine on hand and looked for a recipe for mussels and found this one! So glad!!! Was extremely delicious. I used fresh chives instead of dry since I just happened to have some in the fridge that I needed to use up anyway! Loved the spicy kick of the chili flakes, but if I were to serve this to my mother, I'd just do one Tbsp. Thanks for the recipe! Pinning it :)
Scrub and remove beards from mussels.
Set Aside.
In a large sauce pan combine the wine and butter.
Bring to a boil, reduce heat to medium.
Add the chives, red pepper flakes and garlic.
Stirring often reduce volume by half.
Return heat to high and add the tomatoes with juice, citrus juice and mussels.
Stir once to coat and cover with a tight fitting lid.
Boil for 2-3 minutes.
Remove from heat and discard any mussels that have not opened.
Ladle mussels into serving bowls and pour remaining sauce on top.
Offer pepper at table.